We are currently fundraising for the building of our New School. See the Architectural Drawings of our new school below. Work has already commenced and progressing nicely.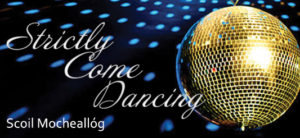 On 28th October we will be getting our dancing shoes and sequin on and hosting our own Strictly Come Dancing Event.
Venue: Charleville Park Hotel
Time: 8pm sharp. Doors will open at 7pm
Tickets: €20 each; available from 1st October
Strictly Come Dancing
On 28th October, we will be slipping on our dancing shoes and sequin for our Strictly Come Dancing Fundraiser, in aid of the building of our new school. The show will commence at 8pm in the Charleville Park Hotel. Tickets are €20 and will be available from 1st October, at various outlets around the town.
The organising committee are pleased to announce the thirteen couples who will take to the stage on Friday 28th 2016 in the Charleville Park Hotel.
1. Miriam Rainsford and John English
2. Trudy Reardon and Seamus Moloney
3. Marie Connery and Ger Finn
4. Jane and Mike Sheedy
5. Roisín Howard and Tony Dowling
6. Trudi Murphy and Richard O'Donoghue
7. Margaret Carroll and Mikey Collins
8. Jennifer Enright and Clem McAuliffe
9. Catherine Farrell and Max Hennessy
10. Joanne Ryan and Derek O'Mahony
11. Elaine Herbert and Fr. Gerard O'Leary
12. Tucksie Earls and Aidan O'Riordan
13. Niamh McCormac and Conor Staunton
The committee wish to express their gratitude and appreciation to all the dancers for their participation and involvement in this major fundraising event. Committee members: Canon William Fitzmaurice, Annette Ahern, Pat Lynch, John Clery, Frances Hayes and Michael O'Connor.
Fund Raising Events
The following are the upcoming Fundraising Events the school has organised, all funds raised go to our School Building Fund. More information on each of these events will follow;
October 28th 2016
Strictly Come Dancing
June 17th 2016
Golf Classic in Charleville Golf Club sponsored by Corrib Oil
May – June 2016
Major Raffle
1st Prize – Two all-Ireland hurling tickets with overnight hotel stay in Dublin
February – June 2016
Monthly School Lotto
---

Architectural Drawings of The New School. Click on the images to see larger versions.